Our convictions
Subtitle
Plants are vital
Content
Texte
For over 25 years now, Klorane Botanical Foundation has been working all over the world to preserve plant biodiversity and explore the power of plants.
Fighting the disappearance of plant species  
All over the world, the Foundation supports projects that are reintroducing extinct or endangered plant species.
Texte
Threatened species, endangered ecosystems
There are over 23,000 plants (trees, plants, flowers) registered on the IUCN's global list of extinct or threatened species*. And these are only the species that are known, identified and studied. Each threatened species weighs heavily on the ecosystems that depend on it. When imbalances play out in front of our eyes, it is often too late. There are numerous threats we can use as levers on which to act, from climate change to habitat destruction and environmental pollution.
Sources : IUCN. 2021. The IUCN Red List of Threatened Species. Version 2021-3.
Reintroducing and protecting
From Southern globethistle in Switzerland, sea marigold in Sicily and the Singapore Orchid, to the palm trees of Mauritius and China's Wild Peonies, the Foundation supports projects aimed at reintroducing and preserving threatened species. This close-up work with plants strengthens our botanical knowledge, helps us develop awareness-raising activities and find people with the potential to guarantee their future protection.
We adapt our activities according to the situation, whether it's replanting a species in its endemic area, sowing seeds to enhance the presence of a species in its natural habitat, creating banks of living plants and seeds, regenerating extinct species using old seeds, or protecting habitats.
Protecting China's Wild Peonies  
Working with the Institute of Botany, Chinese Academy of Sciences, the Foundation is looking at solutions to protect Paeonia sterniana, a wild peony threatened with extinction that only grows in the high plateaus of Tibet. There are only 500 specimens left.
Protecting trees and forests within harmonious ecosystems
Through our reforestation programmes, the Foundation is encouraging the development of practices that strike a balance between agriculture, subsistence and protecting our forest ecosystems.
Texte
The "green lungs" on their way to suffocation 
25 million hectares of forest disappear each year, the equivalent of the entire surface area of Greece*. Trees and forests ensure the essential functions of life on Earth, under Earth, and even in the oceans. They are home to 80% of amphibians, 75% of birds and 65% of mammals. They store 662 billion tons of carbon, or half of the planet's stock.
Under threat from deforestation, exploitation and destruction of habitats, single-crop and intensive farming, rampant urbanisation and uninhibited consumption, their future is inextricably linked with our own and with all of the planet's species.
Source : Global Forest Watch, FAO. 2022. In Brief to The State of the World's Forests 2022.
Reconciling Mankind with the forest  
The Foundation promotes initiatives to reduce pressure on the environment, restore natural habitats and encourage new farming practices that encourage independence and resilience of local areas and populations while bringing in revenue.
For over 10 years, we have been committed to the Great Green Wall project to combat desertification in the Sahel region. In every corner of the world, we develop reforestation programmes that include skills transfers to encourage agroforestry practices in places like Ecuador, Brazil and Indonesia.
Recreating the bond between people and plants
Through education and awareness, the Foundation is supporting the awakening of a new civic awareness to put plants back at the heart of modern life
Texte
Humans: a species in search of meaning
The link between mankind and nature has become tenuous. In just a few generations, we have severed this original relationship to that which surrounds us. But this missing relationship is being felt and we are gradually coming back into contact with plants in various ways. From prescriptions for forest bathing and eco-stays, to allowing wild flowers to grow between concrete blocks and deliberate rewilding, mankind and nature are slowly relearning how to live together.
Plants reintroduce meaning to our modern lives by bringing them back to the natural environment that surrounds and transcends us. We are no longer a species cut off from others. We share a common space with limited room, conscious of the repercussions of our actions.
Protect what you love, love what you know 
Through educational tools like the Budding Botanist, supporting educational programmes and awareness-raising initiatives we aim to help awaken this new public consciousness. We want to allow everyone – and children in particular – to learn how to recognise the trees and plants that surround us, in order to treat them with more respect. It's in our nature, after all !
Forest & Life, an educational and reforestation programme  
In France and Madagascar, we support Forest & Life, an innovative educational programme aimed at reconnecting children with nature, particularly through planting trees. . 
Finding innovative solutions for our future in plants
The Foundation is supporting and underpinning scientific projects around the world to reveal the power of plants and decode the solutions they can bring to the challenges we face.
Texte
Botanical treasures at your fingertips
The Foundation supports and underpins scientific projects around the world to reveal the power of plants and decipher the solutions they can bring to the challenges we face.
Botanical treasures at your fingertips
The plant kingdom is an almost inexhaustible source of solutions that have already inspired the most important curative advances of our time, as well as influencing architecture and design to create resilient structures that are in keeping with their environment. Plants are treasures that offer answers to our ecological and technological challenges, and allow us to imagine our future.
At the cutting edge of botanical research  
Plants heal, relieve and calm, but they can also purify, reduce pollution and repair damaged ecosystems. The Foundation is committed to exploring these treasures to better imagine our future. We offer help and support for scientific work the world over, from medicinal plants at the Buenos Aires Botanical Gardens and the Brest National Botanical Conservatory, to working with the ChimEco Laboratory and the CNRS (French National Centre for Scientific Research) to reduce pollution in a river water mint. We follow these programmes closely to spread our botanical expertise and allow the plants to reveal their secrets in a respectful and sustainable way.
Using water mint to reduce pollution and purify water
The ChimEco Laboratory has demonstrated the pollution-reducing powers of aquatic mint through a full-scale experiment at Saint-Laurent-Le-Minier to purify a river polluted with heavy metals (zinc, iron) from an old mine in Les Malines.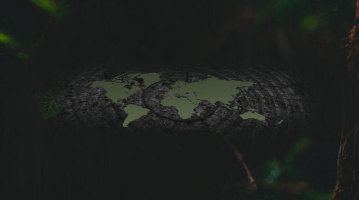 The Foundation works in the field all over the world with local actors to preserve plant biodiversity and raise awareness.