Personal data protection policy
Content
Texte
PERSONAL DATA PROTECTION POLICY OF THE PIERRE FABRE GROUP
 
Thank you for visiting our website. The protection and security of the personal data of our customers and users is a key concern for the Pierre Fabre Group.
This Privacy Policy explains what data is collected when you consult and use our website and how it is processed.
1. Who are we?
This website (hereinafter the "Website") is operated by Pierre Fabre Dermo-Cosmetique, 45 place Abel Gance 92 100  Boulogne (France) (hereinafter "Pierre Fabre" or "We"), which is responsible for processing any personal data that may be collected from you on the Website for the purposes described below.
We invite you to read this Privacy Policy carefully in order to know the conditions for processing your personal data when you consult our Website. Please note that it may be updated at any time by Pierre Fabre. The date of the most recent update will appear on this page. We therefore invite you to consult it regularly.
2. Information we collect about you
Depending on the services on our Website that you use and your choice of terminal configuration (in particular with regard to cookies and other trackers), the personal data concerning you (hereinafter referred to as "your Personal Data") collected andprocessed by Pierre Fabre are :
Data that you have voluntarily entered in a form (newsletter registration, contact, participation in a promotional operation (competitions, games or surveys) such as :
 Last and first name, e-mail address, telephone number, date of birth, gender, postal address and
any other information about you provided by you in the context of your application (which may include  health and welfare data).
The data generated by your browser, collected automatically by our server through "cookies and other tracers":
Data specific to the sites visited: the domain name; the date, time and duration of your visit; the pages and videos consulted, the advertisements on which you clicked.
Data specific to you: your IP address (location of your entry point on the network; type of browser, operating system), .
We do not use this automatically collected Personal Data to try to identify you, nor do we correlate it with the Personal Data detailed above that you provide to us.
We may also obtain Personal Information about you from third parties (e.g. social network profile if you have logged into your member area with your social network profile).
3. Purposes of the processing of your Personal Data
You will find below an overview of the purposes for which we process your Personal Data and the reasons why we need to process them.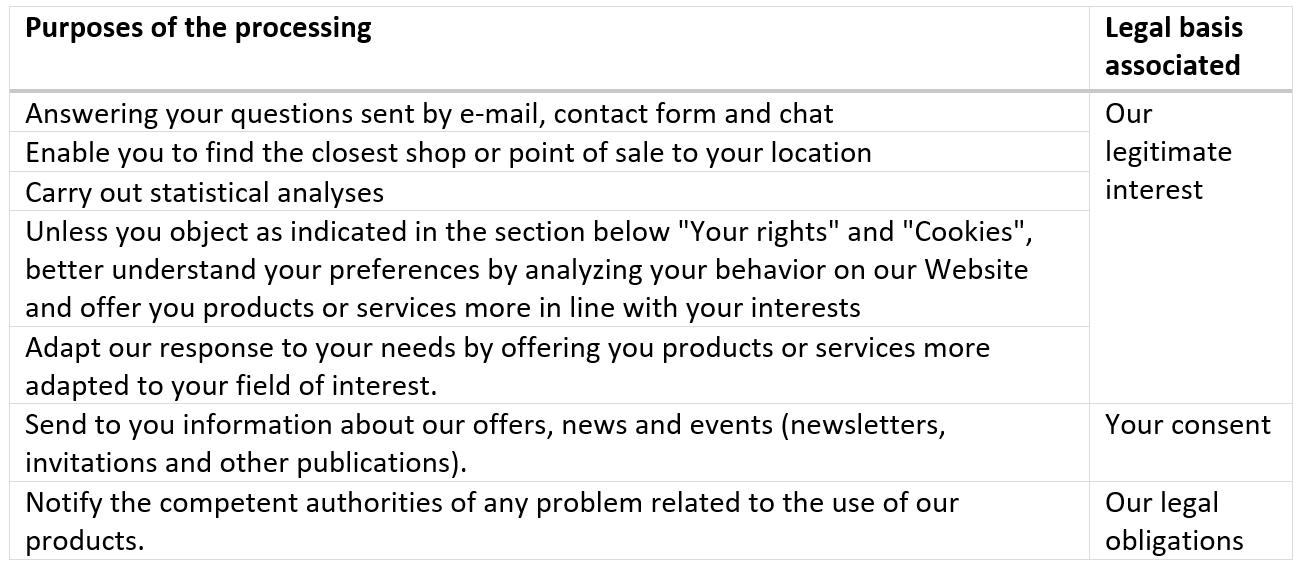 The Personal Data that is essential for us to carry out the above-mentioned purposes is indicated by an asterisk on the various pages of the Website where it is collected.
If you choose not to fill in these mandatory fields, we may not be able to process your requests and/or provide you with the products and services requested. Other Personal Data is purely optional and enables us to get to know you better and to improve our communication and services accordingly.
4. Communication and Transfer of personal data
We are part of the worldwide Pierre Fabre Group, and from time to time we may need to communicate your Personal Data within the Pierre Fabre Group for the purposes set out above.
We may also appoint third party service providers (who will act in accordance with our instructions) to assist us in providing you with information, products or services, to conduct and manage our business, or to manage and improve our Website. In such a case, these third parties may need to access your Personal Data.
If your Personal Data is transferred outside the EEA (European Economic Area) to other companies of the Pierre Fabre Group or to service providers, we will take steps to ensure that your Personal Data benefits from the same level of protection as if it had remained within the EEA, including by concluding data transfer contracts, on the basis of the standard contractual clauses approved by the European Commission as updated or revised or other transfer mechanisms such as, where applicable, adequacy decisions, Binding Corporate Rules or contracts approved by the EU Data Protection Authorities.
We may also disclose your Personal Data to third parties in connection with any actual or potential sale of Pierre Fabre or any assets owned by us or affiliated companies, in which case the Personal Data we hold on our users may be those of the transferred assets.
We will also respond to requests for information if we are required to do so by law, or if such disclosure is necessary to protect our rights and/or to comply with  a court order, a request from a regulator or any other legal or administrative proceeding against us.
5. Electronic prospection
Where permitted by law, and subject to your consent where required, we may communicate with you by electronic means to introduce you to our products and services. If you wish to unsubscribe from receiving our communications, please use the "unsubscribe" link in our emails or text STOP to the number indicated or contact us directly at "Contact Us" and we will stop sending you messages.
6. Retention of your Personal Data
As a rule, we keep your Personal Data only for as long as is necessary to fulfil the purposes for which it was collected.
We keep your Personal Data only for the time strictly necessary to manage the relationship with you. (
However, we will retain your Personal Data for marketing purposes for three years from the date of the last interaction between us if you are not a customer and as long as we remain in contact with you through our promotional activities if you are a customer, unless you object when you receive one of our marketing messages.
IP addresses collected for security purposes will not be retained for more than 10 days.
Finally, the connection logs that are collected will be kept if you consent, using cookies and other trackers used on our Website, for a period not exceeding thirteen (13) months in accordance with applicable laws and regulations. For more details, please refer to the "Cookies" section below.
We may need to retain your Personal Data in archival form beyond the period indicated below in order to comply with our legal obligations or, if necessary in view of the applicable prescription, to enforce one of our rights.
Once your Personal Data is no longer required for the purposes or for archiving purposes to meet our legal obligations or for the statute of limitations, we ensure that it is destroyed or made anonymous.
7. External Links
The Website may contain links to third party sites. As Pierre Fabre has no control over these sites and is not responsible for their data protection practices, we encourage you to check the data protection policies of these third-party sites. This policy applies solely to Personal Data collected by our Websites or during our activities.
8 . Your Rights
In accordance with applicable  regulation, you have the following rights with respect to your Personal Data:
- Obtain a copy of your Personal Data, information on the processing methods and their legal basis.
- Rectify erroneous Personal Data (including the right to complete incomplete Personal Data);
- Delete your Personal Data as far as the legal basis allows it . Moreover, in some cases  this right may only apply when it is no longer necessary to achieve the purposes for which it was collected or processed;
- Restrict the processing of your Personal Data when:
-           The accuracy of the Personal Data is disputed;
-           The processing is unlawful, but you object to the deletion of your Personal Data.
-           We no longer need your Personal Data, but they are still necessary for the establishment, exercise or defines of a right in court.
- Request portability of your Personal Data in machine-readable form to a third party (or to you) if our processing is based on your consent or the performance of a contract with you.
- Obtain or consult a copy of the appropriate measures taken to transfer your Personal Data to a third country or to an international organization.
- Withdraw your consent to the processing of your Personal Data (if such processing is based on your consent) without prejudice to the lawfulness of the processing based on consent carried out prior to the withdrawal of such consent.
- Give general or specific instructions on how your Personal Data will be processed and used after your death.
- Oppose you at any time to the processing for canvassing purposes. To avoid any telephone contact, register free of charge on the Website https://www.bloctel.gouv.fr/.
- In addition to the above-mentioned rights, you have the right to object to any processing of
your Personal Data justified by Pierre Fabre's legitimate interest, including profiling (contrary to a justification by your consent, or to execute a contract with you).
You also have the right to file a complaint with your local data protection supervisory authority.
To exercise these rights, please contact us using the contact details below, under the heading "Contact us". Please note that we may ask you for proof of identity, and we reserve the right to charge a fee if we are permitted to do so by law, for example if your request is manifestly unfounded or excessive. We will endeavour to respond to your request within the applicable timeframe.
9. Cookies
A cookie is a small file that may be placed on the hard drive of your device or on a website server. We use cookies to obtain certain automatically collected information described above. You are not obliged to accept a cookie, and you can choose which cookie to accept by modifying your browser settings so that it does not accept cookies. You can, of course, object to their presence and refuse or delete them. To this end, you can delete them from your device by consulting the help page of the browser you are using or object to the storage of "cookies" by disabling this function in your browser.
10. Types of Cookies We Use
11. Cookies deletion
If you refuse cookies, we will not place any further cookies on your device, except for the feature cookies set out above (including, in particular, a cookie to remember that you do not want cookies installed when you visit the Website).
Please note, however, that if you choose to delete or decline certain cookies, this will affect certain features or services on our Website.
12. Updating of the Privacy Policy
We may amend this Privacy Policy at any time to reflect changes in the law and/or our privacy practices.
 
13. Contact information
If you have any questions about this Privacy Policy or if you wish to exercise any of your rights, please contact our Data Protection Officer at dpofr@pierre-fabre.com.
Last modified: 01/02/2021