A mini workbook for 2022!
Content
Texte
A mini workbook for 2022!
Following the success of the first volume, the Natural Spaces Conservatories network has been working on a mini nature activities workbook. It will be handed out to students during activity sessions run by the Conservatories.
The Natural Spaces Conservatories
The Natural Spaces Conservatories are organisations committed to preserving our natural heritage and landscapes. They have spent the last 40 years tackling environmental, social and economic challenges in various local areas. Their actions are based on 4 key principles: protection, knowledge, management and development.
Their best asset? Their ability to come together with all the relevant parties (from private landowners to government ministries) to ensure biodiversity is acknowledged and protected, and help each local area establish sustainable management practices.
When they were first set up, the conservatories enjoyed support from the state, local authorities and private partners, until becoming well known for ensuring biodiversity is acknowledged and protected, as well as helping each local area establish sustainable management practices.
What is my nature activities workbook?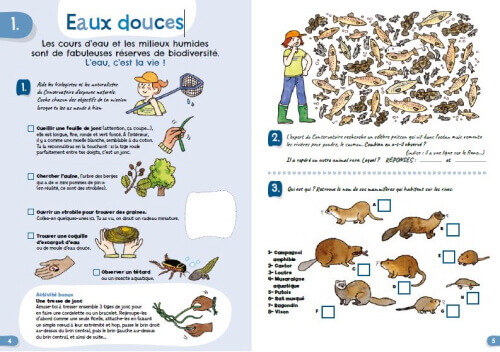 With its 75 games and fun activities, kids from 8 to 12 years old and their families are invited to discover a whole world packed with plants and animals from the natural environments where the Natural Spaces Conservatories are active. These are grouped into five main geographic entities: fresh waters, coasts, forest, mountains and the countryside. On each page, guides, scientists, volunteers and activity leaders take turns presenting the conservatories' different missions and approaches.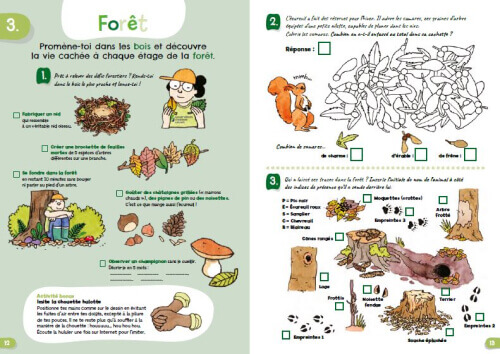 Each chapter opens with a proposed activity to complete outdoors and a selection of games. The following pages are devoted to more specific natural environments, with their own dedicated activities (mazes, puzzles, crosswords, rebuses, etc.). There are drawings to help immerse you in the forest, among the animals and plants, on a beach with the great cormorant, and on the river bank among the crayfish...
Distribution
With 17,000 copies published, the mini workbook will be given out for free to schools where the conservatories are active, to families who take part in nature trips or workshops organised by the conservatories, and to partners.
Klorane Botanical Foundation wanted to support this unique initiative launched by the Natural Spaces Conservatories.
This super fun and jam-packed workbook is meant to compliment the Foundation's other awareness-raising tools and activities aimed at schools and families (the school and junior "Budding Botanist" kits , the Forest&Life reforestation programme, the "Budding Botanist" prize in the US, etc.). This partnership will help raise awareness among 4,000 new students.