Junior Botany Kit
Content
Texte
At home & outdoor, discovering plants together
"BUDDING BOTANIST" PROGRAM: OUR JUNIOR KIT
TOOLKITS FOR THE 5-9 YEARS OLD
Zag is a lizard in no way like others. He has always known he would become a botanist!
With his magnifying glass, his pens and his boots, he's been scrutinizing nature ever since he was a kid. Needless to say he is a pro.
And we have good news: Zag is quite the sharer. So together with Klorane Botanical Foundation, he's created a magnificent kit to help kids discover plants and get to understand them better. He took a break in sunbathing to invent plenty of workshops to do at home, in town or in the forest.
OBSERVING… AND EVEN TASTING!
Plants are a whole kingdom that's for sure. So there is more than one way to explore their world. Our super-botanist Zag has gone the extra mile to share his passion with kids, looking for ways to emulate their curiosity through all five senses. Observing nature, spotting species, planting a flower then patiently witnessing its growth, and even eating its leaves in a smoothie later.
All the family can take part in the activities, for the more the merrier!
Texte
Let's open the box!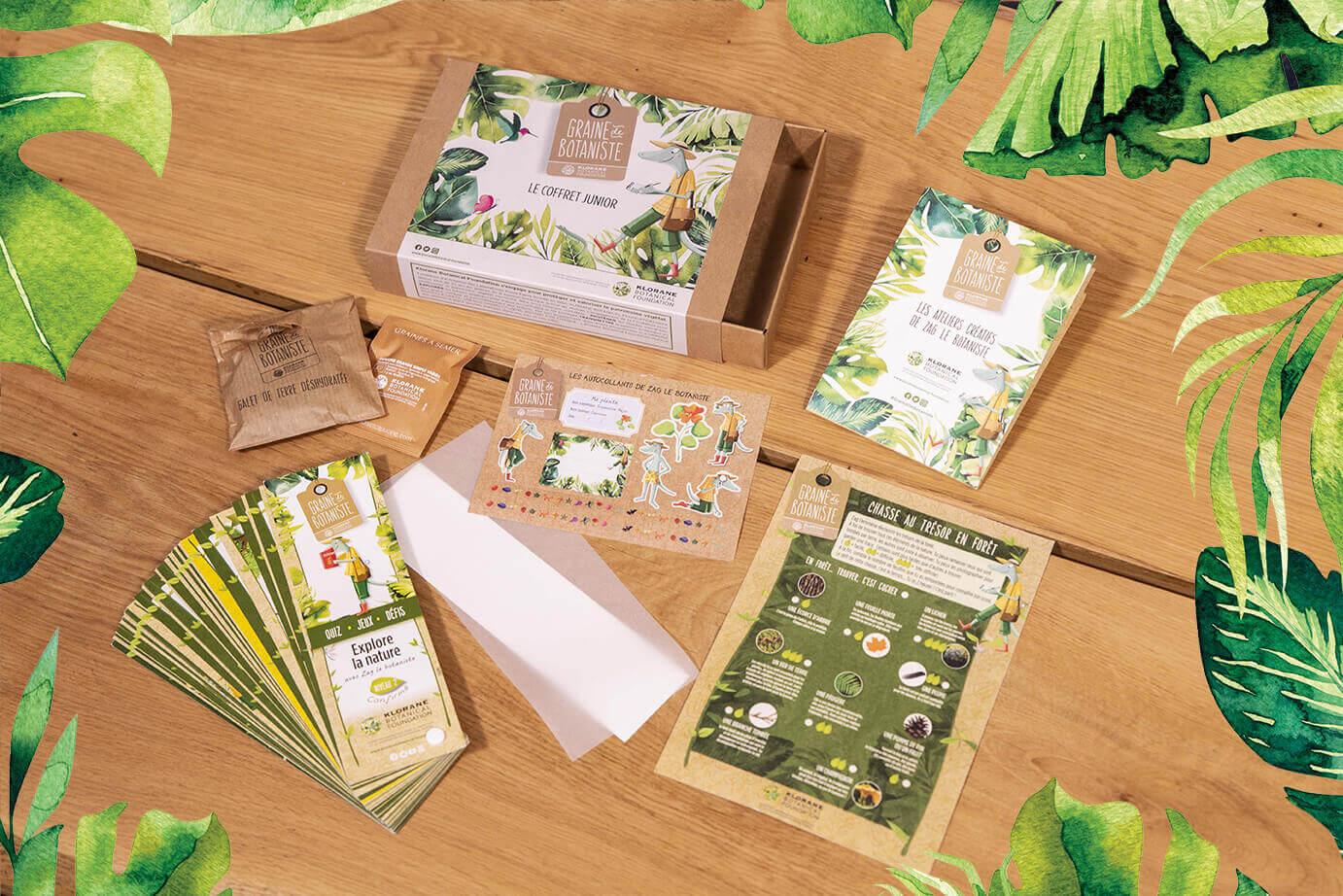 7 fun and pedagogical workshops:
1 pack of nasturtium seeds to sow
Nature can be observed indoors too! To become a super-botanist, curiosity and keen observation will be necessary: be a special witness to the germination, the first leaves...
1 dehydrated soil pellet 
How fun to see it swell when soaked in water! And then even better to see the seeds grow.
1 botanical quiz & discovery set 
With dare cards, true or false questions, games and even funny anecdotes, there is so much to learn so easily. The quiz includes 50 cards and two levels of difficulty so that both budding botanists and more experienced ones can play.
1 DIY pressed plant bookmark
Time to dry the most beautiful leaves and flowers before placing them under the protecting sheet for a first herbarium… Such a nice way to learn all about patience, care and creativity along with nature!
A set of stickers
10 cute stickers to decorate a flower pot, an exercise book or the bookmark. And of course, Zag is on some of them!
A treasure hunt to do in town and in the forest
What an amazing treasure hunt! Zag is taking us for a walk to find small marvels of the natural world… Who will be the first to see a snail? 
A leaflet with botanical workshops
Colourful and fun activities await in the kit and as bonuses. The program includes making and decorating a plant pot to sow the seeds, making a superb butterfly to make it even better looking, sowing and adding the proper label to the plant, completing a drawing to follow the growth of the nasturtium, preparing an exquisite smoothie with the leaves and putting together the pressed plant bookmark with dried flowers
CONNECTED KIDS, YES, BUT TO NATURE!
The themes addressed in the box
Biodiversity
Uses of plants 
The forests
Eco-responsible behaviour
Nature in the city
The vital needs of plants and photosynthesis
The botanical vocabulary
Reproduction and pollination
The seasons 
Texte
In order to share its passion for botany, our Foundation has created this kit by giving each workshop pedagogical aims that are beneficial in a process of environmental education yet go further that the world of plants: it's all about caring for what's around us, getting creative, being curious...
Texte
Where to find it?
1000 kits will be offered through a contest during the Spring in France. 
There will also be additional workshops available for all and for free on the website, released throughout the year.
Discover all the bonus workshops now
Beautiful colouring pages to print are already available online together with other activities!
➯Discover all botanical activities
The other "Budding Botanist" kits
Klorane Botanical Foundation has been sharing its passion for botany for more than 25 years by awakening more than 20 000 kids to nature each year with the "Budding Botanist" program.
Kids can also come across the program at school as a special kit "Budding Botanist at School" is available for primary schools (year 3 to 6).
Toddlers can also discover nature with their parents with the « Little Budding Botanist » kit, with some activities available online.