Stakeholders in sustainable development
Content
Texte
We're all stakeholders in sustainable development. Whether on a small or large scale, locally or internationally, everyone can do their bit in a variety of ways.
Discover the stakeholders in sustainable development
Sustainable development is everybody's business. Public bodies, private organisations, businesses and individuals in civil society all have a part to play in sustainable development.
Public bodies and local authorities
Public bodies include national governments and international organisations, like the European Union. They implement global policies that can be adapted by local authorities. In the UK, the Department for Environment, Food & Rural Affairs (DEFRA) is responsible for the country's overall sustainable development policy, which is then applied regionally, whereas where our Foundation is based in France, it's the Ministry of the Environment, Energy, Sustainable Development and Land Planning (MEEDDAT).
In 1992, the third Earth Summit held in Rio de Janeiro led to the establishment of a strategy known as Agenda 21. This programme for action has since been adopted by 172 individual countries. It means that each local authority in each country can implement its own Agenda 21 through actions on the ground, including development, funding, awareness-raising campaigns, etc.
Water, energy, transport, waste management and town planning are all areas in which they can take action.
To achieve effective change, public bodies often work in partnership with private stakeholders. 
Associations and NGOs
Whether on a local or international scale, associations play a major role. They ensure private initiatives are heard by the public and by public bodies. Their scope of action is broad and they work across all levels of society on all manner of sustainable development issues. They're proof that, together, we can achieve a lot!
Who are the sustainable development associations? What do they do? Find out more about the main sustainable development associations operating today.
Businesses
Nowadays, more and more companies are committing to sustainable development. Aware of their environmental, economic and social impacts, they're introducing new CSR (Corporate Social Responsibility) guidelines. Saving energy, improving working conditions for their employees, carefully selecting suppliers... lots of the steps modern companies are taking are beneficial for the environment, society and the economy as a whole!
To help protect plant species and biodiversity, Pierre Fabre Laboratories set up the Klorane Botanical Foundation, a way for the company to demonstrate its commitments and take direct action in the field. What is the Klorane Botanical Foundation? 
Citizens
Young or old, in bustling cities or tranquil countryside, at home or at work... individuals can play a major role in sustainable development in their daily lives, as well as in their civic duties, whether that's joining an association, or even getting involved in politics.
Your questions answered
« What is an NGO? How is it different from an association?»
NGO stands for non-governmental organisation. It may be international, i.e. operating in several different countries, or local, i.e. focussed on one particular area. Privately run, NGOs aren't dependent on any public bodies, even if they happen to work closely with governments or public institutions, such as schools. On the other hand, associations are simply organised groups of people working together to achieve a common goal. Each can have a unique legal status. Typically, NGOs are neither associations nor foundations. Klorane Botanical Foundation is a corporate foundation.
« As a normal citizen who isn't part of an association, can I do anything to promote sustainable development? »
 Individually, you can always make a difference. At work, at home, with your family or alone, taking action on sustainable development means being aware of your environmental and social impact in everything you do.
« What can I do individually to help sustainable development? »
You can do a lot on your own. Limit the amount of packaging you consume, buy locally, use public transport or ride a bike, install a water butt in your garden to capture and collect rainwater... these are all great everyday practices. If you're ready to go one step further, you could also encourage your children – or your parents! – and others to adopt more eco-friendly habits. Why not try to get your work colleagues on board, too?
« Can businesses do anything to help sustainable development? »
Yes, all companies can get involved, in all sorts of sectors. Good practice doesn't just apply to manufacturing goods or providing services, the means of production or resources used, but also to working conditions, staff management, choice of suppliers, etc. Sustainable development practices reflect an overall ethical approach to what companies should be.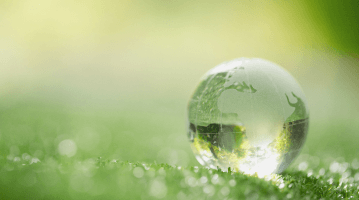 THE THREE PILLARS OF SUSTAINABLE DEVELOPMENT
A holistic vision leading to a new model of society, taking into account the limits imposed by the depletion of natural resources, the need to reduce and eradicate inequalities, and the need to question the ways we generate value.