Botany kits for toddlers
Content
Texte
The « Little Budding Botanist » program: little ones discover nature with their parents
Toolkits for toddlers
Here is a piece of truth: it is never too early to discover nature's wealth. Quite the contrary, even. The earlier, the better! What better gift can we make our kids than to introduce them to the wonders of the world precisely when they are at an amazing stage of sensorial development? Flowers, mosses and trees, here we come! So where do we start? In order to help parents connect their toddler with nature, Klorane Botanical Foundation has created a lovely "nature awakening" kit. Maybe you have already come across one of our pioneering program, « Budding Botanist », an educational kit distributed in schools? Well here's the little brother kit, dedicated this time to parents!
Awaking all senses
Looking, touching, smelling, hearing… There is a thousand ways to connect with nature but they all happen through perception. Our kit takes you on a journey through the world of plants by enlisting all the senses: it is through sensory experience that toddlers will first encounter nature. So what's on schedule? Loads! Coloured and playful activities to make with mom and dad. We'll sow seeds, match fruit and colours, draw on leaves… Beautiful moments ahead, where parents and their kids can connect around nature.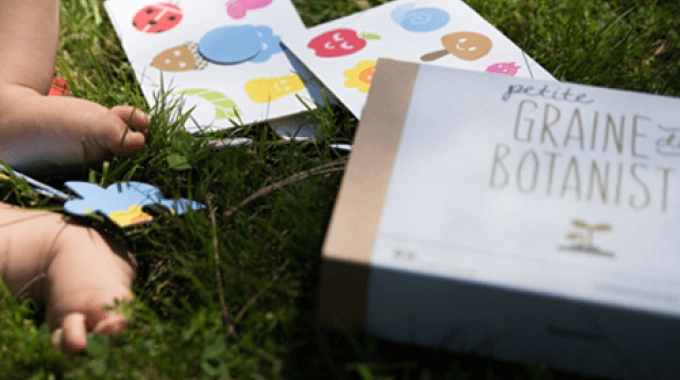 What's in the box?
5 parents with kid pedagogical activities:  
1 pack of calendula seeds to sow*
1 soil pellet* (to start the seeds)
1 Calendula Flower puzzle (4 pieces)
1 matching shapes and colours game (2 illustrated cardboards + 12 shape tokens + 6 colour tokens)
1 « Let's discover nature » poster (with colouring area)
*Beware, not suitable for children under 36 months. Small parts might be swallowed.
Texte
Download and print!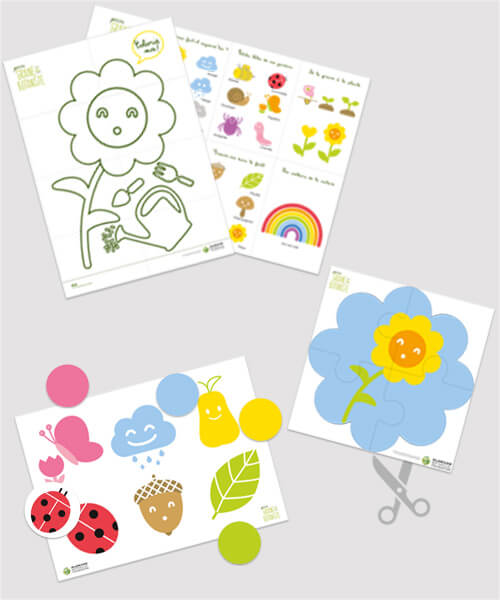 Some of the activities in the « Little Budding Botanist » box are also available here for you to download: 
the discovery and colouring poster, to introduce your child to the diversity of nature (seasons, the sun, the birth of a flower, those tiny creatures in our gardens…)
Download here (recommended printing size: A3)

the colourful puzzle allows you to assemble a Calendula flower (print on heavy paper/cardboard and cut along the dots) 
Download here  

the shapes and colours matching game, to get the basics while having fun (print both cards + 18 colour and shape tokens on heavy paper/cardboard, then cut) 
Download here 
 
Eco-friendly kit 
Our « Little Budding Botanist » kit is made with sustainable choices in mind: made in France, PEFC certified kraft cardboard, recycled and recyclable materials, natural inks…
For a generation of Nature Lovers
Giving voice to the plant kingdom
Look at these kids, barely on their feet: we are about to entrust them with our planet. In turn, they will have a sacred mission, both beautiful and difficult: to protect nature. Here is a good piece of news that might help them: the passion for plants and botany can be shared as early as infant age, even while the senses are still developing. Our foundation has chosen not only to act in order to protect biodiversity, but also to hand that passion over to the next generation.
Switching off more easily
Anyone who is born today will have to live with screens, and an ever-growing digital environment. While our kids will have to master both, it is important that they learn how to switch off and manage for several hours without screens. But to do so, don't they need to know what to turn their attention to?
To even want to, and get used to switching off, being able to perceive the wealth of the world around us is necessary. Books, arts, humans, flavours or even animals, and, of course, the wonderful world of plants. It is right here, at hand's reach…and all we need to do is help our kids see it.